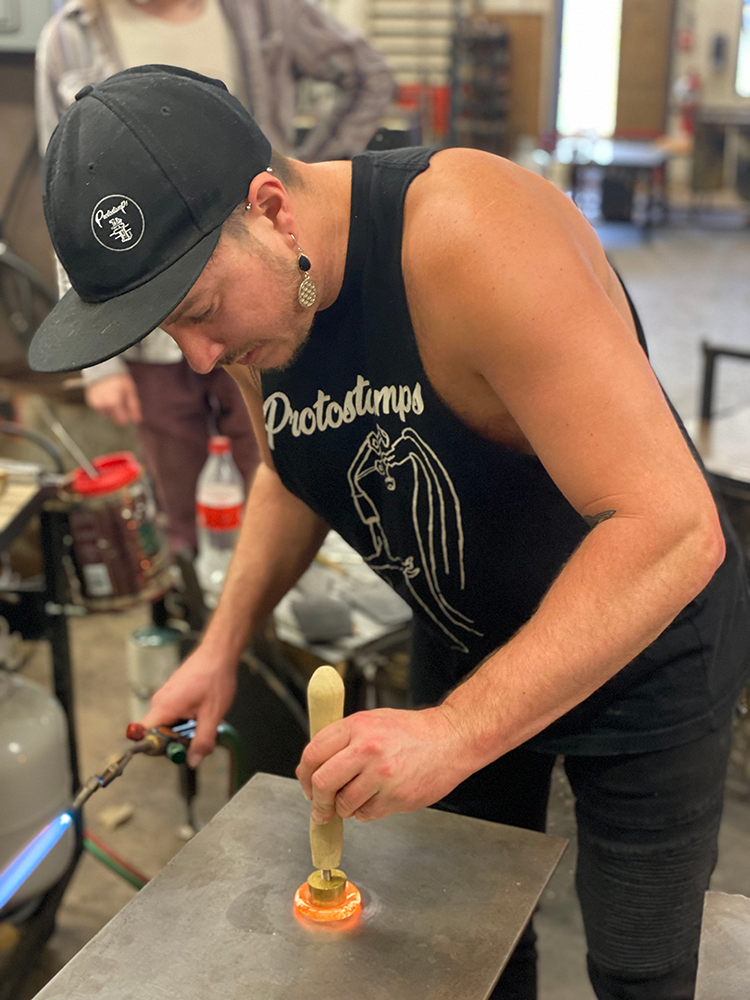 Meet Sam Meketon
Sam founded Protostamps after realizing that stamps made for glass art needed to have the material and application considered in the creation of the stamp itself. Understanding the nature of glass as a material enables Sam to identify the strengths and weaknesses of protruded, or extruded stamps. This informs whether any stamp design will register well onto the glass when applied. The transparency of the material alone allows for the viewer to see through the glass and onto the surface itself. Through conversation about the type of glass and use of the stamps, Protostamps designs are always made to fit your needs. 
More About Sam
Welcome to Protostamps by Samwich Glassworks
Protostamps is a collaborative artist & event collective started by Sam Meketon in Taos, New Mexico. We create glassware & stamps available for purchase as well as aid in the production of your own custom creation. Protostamps connects artists and venues, providing workshops in glass blowing, stamp creation, metal fabrication and participate in seasonal events and festivals, showcasing our own work and that of our affiliate artist community.
Discover the Story of Protostamps
Living Our Values
Craftsmanship to Last

All our stamps are made of solid brass or graphite, complete with a hand turned wooden handle, with a threaded rod. Built to last.

Intricate Details

Our team works with your graphic branding to reflect the detail and design within your hand crafted stamp.

Shop Local

We take pride in working with local and regional organizations to to create custom stamps.
Explore Our Portfolio of Work
Each of our stamps is customized for our clients - We specialize in helping clients take an image, logo or idea and translate that into a visually dynamic stamp. View the variety of work we have completed below.
Request Your Custom Stamp